When I first met Bill West, it was at a Made in Nevada event in an echoey yellow spanish building. This was a collective effort
between the entrepreneurs in the community, the people in our office, and Reno Municipal Rose Garden Park. I was still really new to the Small Business Development Center at the time, and had yet to really understand the people in Reno. Then, Bill West came into my existence with the strike of an E minor chord singing about Storms Comin' (the title of the first studio album from Bill's band, The Electric).
I don't think many business people have gotten to meet him for the first time like I did, with him strumming and singing at the top of his lungs. But something that everyone does get to see is his passion in everything that he does, from his employees, to customers, and to his company Bareknuckle Brand Marketing. Bill has lived an incredibly interesting life, and his story, both good and bad, is an inspiring tale of what 2008 was like for people with hearts and spirits similar to his.
The Story of Bill West
During his days at UNR, Bill wanted to become a speechwriter for big time CEOs. As a 2007 masters graduate with communication and journalism degrees in hand, he quickly was struck with the reality that nobody was making very heart warming speeches about how good the times were. So, like any smart graduate at the time, he went to do, as he described it, "slinging sandwiches." So I asked my most anticipated question, "what made you decide to be an entrepreneur?" and Bill's answer to this blew me away.
After laughing for a moment, he looked at me and shrugged, "I didn't, I never decided to or intended to own a business. I was just looking to survive."
It's funny to think that sometimes we consider the story of entrepreneurship to be this Steve Jobs' moment of changing the world, when in reality, both his and Bill's stories are about surviving.
At the time, no one was rushing to hire a speechwriter fresh out of grad school, so Bill looked for other avenues. After a lot of dead ends, Bill had a CEO ask him if he could do ghostwriting and write a book. To stubborn to think otherwise, Bill said "Yep." He used his writing skills to make ends meet (of course with the help of continuing to "sling sandwiches").
The Story of Bare Knuckle
One book deal turned to two, and then two to three, and slowly Bill found himself with a stack of freelance ghostwriting work. That is, until one day when a mentor mentioned that ghostwriting may be a good business opportunity. Because of this comment, (and of the previously mentioned stubbornness) Bill started his own company, GhostWest, a ghostwriting firm that later would employ journalism interns and other aspiring business writers.
After a while of continuing his work, he became frustrated with the lack of spirit involved in the graphic design work from freelancers he was contracting. He began to want to hire one himself. This lead him to a six-year relationship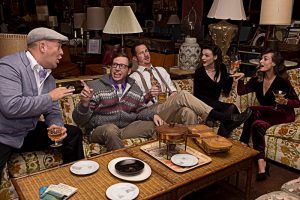 with his someone who would become his business partner for the first couple years of Bareknuckle. The two started out by teaming up on client work and soon they were not accepting contracts unless both were in on the work. Making a long story short here: the two merged their small businesses into one growing company, Bareknuckle Brand Marketing.
Up until the merger, Bill had become somewhat of the copywriting hub for Reno, working with most, if not all, of the agencies in town (most of them had cut their copywriting departments during the recession and brought Bill in to fill the gap). The purpose behind the merger and creation of Bareknuckle was to move into a space Bill thought most of the area's agencies weren't filling: messaging and branding. Bill's new team took on new contracts, focusing on their mission to help ballsy businesses: DRAW A CROWD | STAND OUT IN ONE.
The Story of You
Bill West moves around a lot. He talks with an animation and honesty about him. He answers questions with open phrases and then digs into to make his point, like when he says, "business is really bizarre sometimes." It's important to learn to go with the waves, and swing with the punches, but do so with intent. Don't give up because things are getting hard, but instead embrace the things that come your way, good or bad.
Even though times were tough, Nevada holds strong, and the spirit that we all have can persevere. A large reason why his story is so inspiring is because its goal oriented. "How can I hold onto my passion, and pay rent?" This question can lead to a number of different answers, but none of those answers will mean anything without action.
Steps to helping solve problems for you and your customers:
Think about a problem

Diving into the why, how, and what of the problem is critical. Think back to the issue of graphic design. Bill thought that there may have been a better way, but didn't have the money to hire (or the know-how to train) a full-time graphic designer. He saw not only the problem, but also the obstacles with his situation. Every situation is different, and you should take time to understand what it is that makes your situation hazardous so you can make the most informed decisions.

Think of a solution

Solutions are said to be measurable and specific, but sometimes there are problems that become hard to measure. For example, "I'm unhappy with my distributor" can be a daunting goal to set. What you can instead measure is your satisfaction. Decide to be happy with the situation by changing it in some way. Don't get us wrong, measurable goals are incredibly important, we just understand that some things aren't right out of the entrepreneurial textbook.

Act until you get a goal met

Working hard is truly the best medicine, and having the attitude of working hard until things improve can not me more present in these stories. Getting help from others, hiring, keeping up with demand, and improving quality are all parts of working hard and meeting goals. Constantly improving and keeping up with goals can set a company up for success in the long run, not just in the here and now. We can't stress how much of an importance it is to continually be improving, pivoting, and working.