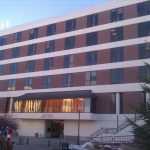 University of Nevada, Reno
College of Business
Business Building, Room 411
Reno, Nevada 89557-0032
Phone: (775) 784-1717
---
The Reno office of the Nevada Small Business Development Center (Nevada SBDC) houses the State Director and many of the Nevada SBDC's specialty programs.  The student intern department provides research and information to advisors throughout the state.
Full-time advising services are offered through the Reno office. The state office presents nearly 100 training events each year throughout the state. Statewide programs are coordinated from the Reno office with program delivery to all Nevada SBDC centers. Several research projects are developed, designed, and delivered with a multitude of partners and sponsors.
The state office is located in Room 411 of the Ansari Business Building on the University of Nevada, Reno campus. For more information about the Nevada SBDC services, or to make an appointment with a business advisor, please call (775) 784-1717 or email admin@nevadasbdc.org.